Our Business Financing Advisors will help you find the best financing options for your business to get you more funding, better terms, and lower interest rates. We're available to explain every step of the process from applications to your re-payment schedule!
After completing this simple application, we'll pair your with a dedicated Business Financing Advisor to choose the best financing options for your business!
Our goal is to help get businesses back to business by providing the best small business and commercial lending options available today. Our streamlined processes and strong relationships allow us to process hundreds of transactions/month resulting in hundreds of millions of dollars distributed to small businesses, nationwide on a monthly basis.
3+ Months in Business – You can qualify for our top financing options with as little as 3+months in business.

$15,000+ Monthly Gross Sales – The minimum revenue to qualify for financing options are $15,000 per month, or $180,000 in annual gross sales.

No Minimum FICO – We have financing options for all credit profiles. There is no minimum FICO score required to apply.
For better loan terms it is important for your small business to maintain a good credit score to help build its profile. Making on-time payments and paying down your debt on a regular basis are some of the ways to maintain your credit score. Depending on your needs, an online business line of credit could be one of the most straightforward solutions to meet your business goals.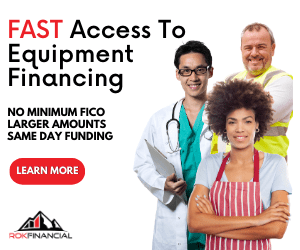 "My company needed to grow right away. I went online and opened an account in less than 15 minutes and took out a line of credit with us. It was the best decision."
"I've been looking into this company for months and I'm so excited I finally pulled the trigger. They have a great website with videos, FAQs, online chat, and even an application form that you can fill out in less than one minute."
"I found it really difficult and time-consuming to find money for my growing business, but with an online business line of credit from this wonderful team, I was able to open a company account in minutes without a credit check."
Get matched with the best financing options with the highest funding amount.
Our Fintech Speed can get you in and out of Underwriting in as little as 2 – 7 days!
The Best Line of Credit for Small Business
If you own a small business, you probably want to find the best line of credit for your company. If you are looking for a line of credit for your small business, there are several factors that you should consider before making a decision.
Businesses use three main types of credit lines: revolving credit, term credit, and installment credit. Each type has its pros and cons, and you should choose the one that works best for your business.
Here are the top five reasons why you should choose a revolving credit line for your small business.
1. Revolving Credit Lines Are Easier To Obtain Than Other Types Of Business Credit
A revolving credit line is a line of credit that allows your business to borrow money at any time. A revolving credit line is usually easier to obtain than other types of business credit because it does not require collateral. Collateral is an asset that is used as security for a loan.
For example, if you want to get a loan for $10,000, you need to put up your house as collateral. This means that you have given away part of your home to secure this loan. However, with a revolving credit line, you do not have to give anything up. You can write a check or make payments on your account whenever you like.
2. Revolving Credit Lines Can Be Used At Any Time
Revolving credit lines allow your business to access funds when they are needed most.  Credit for business owners often comes from unexpected equipment breakdowns, employee illness, or even natural disasters. With a revolving credit line, these emergencies will never be too big to handle.
Your business can always pay back what was borrowed plus interest. The only thing that stops you from accessing more cash is how much you already owe. So, by having a revolving credit line, your business will always have enough capital available to cover all expenses until the next payment date arrives.
3. Revolving Credit Lines Offer More Flexibility In Borrowing Money
With a revolving credit line, borrowing amounts are flexible. When using a revolving credit line, borrowers can take out loans ranging between $100 and thousands of dollars. Most companies prefer to keep their accounts under $5,000 to don't have to worry about paying high fees. But, if you really need extra funding, you can easily increase your balance without worrying about penalties.
4. Revolving Credit Lines Have Lower Interest Rates Than Term Loans
Term loans offer higher rates than revolving credit lines. They also come due after a set period of time. These terms may work well for some businesses, but many others cannot afford them. Choosing a revolving credit line instead of a term loan can avoid costly late charges and penalty fees.
5. Revolving Credit Lines Allow Smaller Companies To Access Capital Faster And Cheaper
Smaller companies tend to struggle with getting financing through traditional sources.  Your business credit score might not reflect your company's financial strength. If you apply for a bank loan, you could end up waiting months before receiving approval.
On the other hand, a revolving credit line gives smaller companies instant access to capital. It doesn't matter whether your company has been around since day one or just started yesterday. As long as you meet certain requirements, you can qualify for a revolving credit line.
Business Credit Cards : How to Choose?
A business credit card offers several advantages over a personal credit card. 
First, it allows you to build good credit history.  Credit limits are usually lower than those offered by personal credit cards. This means that you won't get into trouble spending money faster than you earn it. 
Second, it helps improve your business's reputation because customers see that you use your business credit card responsibly.  Credit providers look at this information when deciding which applicants should receive better deals on future purchases.
Third, it provides an easy way to track sales and payments. You'll know exactly where each transaction stands in relation to your overall debt limit.  Secured credit lines allow you to borrow against assets such as inventory, equipment, real estate, etc.  Unsecured business credit lines do not require collateral. However, most lenders only extend unsecured lines to established companies.
Finally, there is no annual fee associated with a business credit card. The interest rate charged depends on how much cash you put down as security. Some banks charge more than 10% per year while others charge less than 1%.   
Credit for Startups: Business Credit Cards for New Entrepreneurs
If you're starting a new business, consider applying for a business credit card from a reputable provider. Many startup-focused credit cards provide perks like discounts on office supplies, free legal services, and even help to find investors.
Unsecured Business Line Of Credit Card: How to Choose A Business Credit Card
1. Decide what type of business credit card you want. There are two types of business credit cards – secured and unsecured. Both offer different benefits depending on their purpose. For example, if you plan to buy large amounts of merchandise online, then a secured credit card would be best suited for you. In contrast, if you need quick cash flow, then an unsecured credit card will probably suit your needs better.
2. Determine the amount of funding you need. Most business credit cards have minimum monthly payment options ranging between $100-$500.  Credit qualifications vary based on industry and size of business. Small businesses typically don't qualify for high credit limits but they may still benefit from low rates. Larger firms often enjoy higher credit limits and competitive rates.
3. Consider your current financial situation. Before choosing any kind of financing option, make sure you understand all costs involved. Your first step should be to determine your total available funds. Then calculate your projected income and expenses.  Larger credit limits can mean larger bills so keep these things in mind before making final decisions.
4. Check out other financing options. If you decide to apply for a business credit card, compare its features to other sources of capital. Do some research about alternative loans including bank accounts, home equity loans, or revolving lines of credit. These alternatives might work well for you depending on your specific circumstances.
5. Apply early! It takes time to establish a solid relationship with a lender.  Lines of credit come with terms and conditions that must be met by both parties. You'll also need to pay off the balance every month. So it's important to get started right away. Start saving money now to cover those payments.
6. Keep track of spending. Once you've applied for a loan, monitor your finances closely. Make sure you stay within budgeted limits. This way, you won't incur additional fees when paying back the original loan.
Disadvantages of Using a Business Credit Card
There are disadvantages to using a business credit card. One disadvantage is that you must maintain a minimum monthly fee. Another drawback is that interest charges accrue over time. The longer you use the card, the more interest you'll owe. And finally, there are certain situations where a business credit card isn't appropriate. 
Businesses that sell products or services directly to consumers aren't eligible for most business credit cards. Instead, look into merchant credit cards. Merchants who accept Visa and MasterCard charge their customers' credit cards at the end of each transaction.
Merchant credit cards offer many benefits such as no annual fee, free online bill-paying tools, and cash advances. But merchants must meet strict requirements to receive them. For example, they must earn enough revenue to support the account. In addition, they must provide proof of insurance coverage.
Easy Approval Business Line Of Credit
Business financing options for financing products and services, including equipment, inventory, accounts receivable, real estate, and more. Business owners can use a variety of loan types to finance their businesses. 
An instant business line of credit online is one such product offered through many banks and lenders. The process of obtaining this type of financing is simple and fast. All you need is a valid checking account and proof of ownership.
Instant Online Business Loan Application Process
The application process begins once you submit your information via our secure server. We review your request immediately and contact you as soon as possible. Our goal is to approve your loan quickly and efficiently. 
Flexible financing programs are designed specifically for small-business owners who want to purchase new equipment, expand operations, or fund working capital requirements.
Small Business Loans For Equipment And Invoice Financing
Future financing plans include:
1. Payroll Advance – A payroll advance allows you to borrow against future wages earned at your place of employment. Typically used for short-term cash flow needs like purchasing supplies, hiring employees, or covering unexpected expenses.
2. Inventory Finance – Used to buy goods or materials needed to operate your business. Most commonly used for purchases of raw material, parts, or finished goods.
3. Accounts Receivable Financing – Allows you to borrow up to 90% of outstanding invoices from customers. Use this option if you have an established customer base but don't yet have enough sales history to qualify for traditional short-term financing needs.
4. Working Capital Financing – Provides access to funds for operating costs, expansion projects, or any other purpose where immediate liquidity is required. Commonly referred to as "cash advances", they allow you to draw down available balances without having to wait until the next billing cycle.  This source of financing is ideal for growing companies looking to increase production capacity or hire additional staff.
5. Commercial Real Estate Financing – Offers flexible funding solutions for commercial property acquisition, construction, renovation, leasehold improvements, and refinancing. These loans typically carry lower interest rates than conventional bank lending because they're backed by collateral.
6. Lease Purchase Financing – Similar in concept to a home equity loan, this program provides borrowers with the ability to acquire assets using borrowed funds secured
How To Get A Small Business Line Of Credit?
Business funding options vary widely depending on what kind of business you own. If you run a retail store, then you may be able to get a merchant cash advance that will help you pay off high-interest debt while allowing you to keep all of your profits.
On the other hand, if you sell products wholesale, then you might consider applying for a factoring company instead.  Quick funding speed can make a big difference when it comes time to meet payroll. The sooner you receive money, the more likely you'll be able to cover those bills before they come due.
How To Get Easy Business Loans With Bad Credit?
Online lenders differ from traditional lenders in many ways. They offer quick approval times, no upfront fees, and easy online application processes. However, there's one thing these businesses do share with their brick-and-mortar counterparts — bad credit doesn't matter!
In most cases, applicants need only provide basic personal information such as name, address, phone number, email address, and proof of income. Once approved, you can expect to see funds deposited into your account within 24 hours.
Alternative lenders are also known as nonbank financial institutions. NBFI providers include:
1) Merchant Cash Advance Lenders – Provide working capital to merchants who accept debit cards, checks, electronic payments, and even gift card transactions. Business lenders usually require at least $25K in annual revenue and up to 100% of each transaction amount.
2) Factoring Companies – Factor receivables. Invoice discounting allows businesses to borrow against future earnings rather than current accounts receivable. It's similar to how banks work except that factor companies charge monthly service fees ranging between 2%-10%.
3) Private Equity Firms – Buy out struggling firms and turn them around through restructuring.  The minimum credit score requirement varies based on industry type but generally ranges from 620 to 680.
4) Venture Capitalists – Invest in new startups. Minimum investment requirements range from $500-$50 million.  A financial statement is required along with an overview of the startup's strategy and plans.
5) Crowdfunding Sites – Raise capital via crowdsourcing sites like Kickstarter or Indiegogo. Some crowdfunding platforms allow entrepreneurs to raise capital without having any prior experience running a business.
6) Peer-to-Peer Loan Platforms – Connect individuals looking for financing directly with investors seeking returns. P2P websites have become increasingly popular among millennials since they don't involve middlemen.
How To Apply For A Business Line Of Credit
Credit approval takes less than 30 seconds. You simply fill out our secure form below and we'll contact you right away to discuss your options. If you're ready to apply now click here to get started today.
Business loans are available nationwide. We've helped thousands of people just like you find the best loan deals possible so you can start growing your business immediately.
A credit line increase will help you pay off bills faster while providing more cash flow for other expenses. This could be used to cover payroll costs, inventory purchases, equipment financing upgrades, marketing campaigns, advertising, travel, etc.
Lowest Rates and Minimum Payments
The average interest rate on a business line of credit is 5%, which means it's cheaper than borrowing money using a bank. Plus, you won't have to worry about paying back high rates of interest when you use this method.
Automatic payments and payment frequency vary by lender. Typically, most lines of credit offer automatic bill pay for loan payments every month. However, some may only provide one or two times per year.
A prepayment penalty applies if you decide to close your account early. Most lines of credit also include late charges and/or over-limit fees. These penalties depend on the terms of your agreement.
You must repay all outstanding balances before closing your account. Once closed, there's no way to reopen it unless you qualify again.
If you need additional funding within 60 days, you might want to consider applying for another line of credit instead. Many lenders limit their maximum number of open accounts.
You should always read all terms & conditions before signing anything. Most online forms ask if you agree to their terms and conditions. These documents often contain information regarding late charges, default penalties, and other important details.
If you need additional funding after receiving your initial application, please submit another request.
Conclusion
In conclusion, I would recommend that you take advantage of these methods as soon as possible because many banks require at least three months' worth of financial statements in order to approve a new business line of credit.
If you want to learn more about getting additional funds with the best line of credit for small businesses, please call (888) 653-0124 or apply using our 1-minute application by clicking here.
 FAQs for the Best Line of Credit for Small Business
Is It Hard to Get a Business Line of Credit?
No! In fact, it couldn't be easier. All you need is an established company name, good personal references, and proof of income. The rest is up to us. Our team works hard to make sure each applicant gets approved quickly and easily.
We understand how difficult it can be to obtain traditional bank loans. That's why we work closely with local lending partners who specialize in helping businesses grow.
How Many Lines of Credit Does My Business Need?
You need enough credit to cover all your expenses for one month. If you're planning to expand your operations, then you'll probably need even more. We suggest starting out with $10K-$20K so you don't run into any problems down the road.
Once you've determined what amount will fit your needs, contact us today to get started. You can reach us via phone at 888-653-0124 or fill out our quick form below.
You can get a business loan with no collateral if you have good credit. This means you won't need to put up any assets such as real estate or inventory. Instead, you'll receive cash advances based on your monthly sales volume.
The process usually takes less than 30 minutes and requires just a few basic pieces of paperwork. Afterward, you'll receive approval letters from both your primary and secondary lenders.
Our goal is to help you succeed financially while providing exceptional customer service along the way.
Does Business Line of Credit Affect Credit Score?
Yes. If you are planning to buy equipment or inventory, then you will likely see a drop in your score. This is normal. We don't expect any major changes in your scores until six months into your first monthly repayment period.
However, once you start making regular payments, your scores usually begin improving. Your score could even go up several points during the life of your loan.
What Are Some Things To Consider When Choosing A Lender For Small Business Loans?
The lender should be able to provide you with a list of their current clients. They should offer competitive rates and flexible payment options.  Their customer service representatives should speak English fluently.  
Make sure they're FDIC insured.
You should ask about their experience in providing loans to small businesses. Do they know what type of companies typically qualify for this kind of financing? How do they determine whether applicants meet certain criteria? What types of documentation does the lender require from borrowers?
Don't forget to ask if they have any special programs or incentives that can help you.