Our Business Financing Advisors will help you find the best financing options for your business to get you more funding, better terms, and lower interest rates. We're available to explain every step of the process from applications to your re-payment schedule!
After completing this simple application, we'll pair your with a dedicated Business Financing Advisor to choose the best financing options for your business!
Our goal is to help get businesses back to business by providing the best small business and commercial lending options available today. Our streamlined processes and strong relationships allow us to process hundreds of transactions/month resulting in hundreds of millions of dollars distributed to small businesses, nationwide on a monthly basis.
3+ Months in Business – You can qualify for our top financing options with as little as 3+months in business.

$15,000+ Monthly Gross Sales – The minimum revenue to qualify for financing options are $15,000 per month, or $180,000 in annual gross sales.

No Minimum FICO – We have financing options for all credit profiles. There is no minimum FICO score required to apply.
For better loan terms it is important for your small business to maintain a good credit score to help build its profile. Making on-time payments and paying down your debt on a regular basis are some of the ways to maintain your credit score. Depending on your needs, an online business line of credit could be one of the most straightforward solutions to meet your business goals.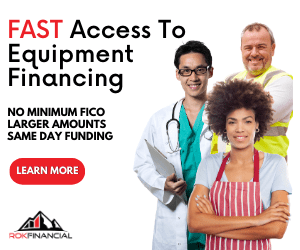 Get matched with the best financing options with the highest funding amount.
Our Fintech Speed can get you in and out of Underwriting in as little as 2 – 7 days!